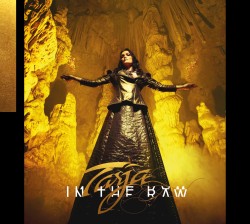 Tarja Turunen är tillbaka i sitt rätta element med nya albumet "In The Raw" efter några mer eller mindre experimentella utflykter.
Tarja som för de flesta är synonym med finska Nightwish storhetstid, laddar här röstbössan ,ed stora hagel och på albumets öppningsspår "Dead Promises" låter hon balansera upp sin operaskolade röst med en growlare, precis så mycket att man inte tappar intresset.
Plattan är omväxlande i både tempo och tyngd, så man behöver inte låsa in sig i någon undergenre utan bara öppna sinnet och släppa in en av metallens mest dominanta röstresurser.
Det här kändes bra redan vis första lyssningen. Frontface ger Tarja Turunens "In The Raw" FFFF, alltså fyra av 5 i betyg. We Like! We Rock!
Plattan släpps 30 augusti, bara att köpa…
Playground Music skriver själva så här:
Hårdrockens egen operadiva, Tarja Turunen är tillbaka, nu med ett helt nytt album: "In The Raw". Tarja gjorde sig ett namn bland rockfans världen över som sångerska i finska Nightwish. Hon är en klassiskt skolad sopran och just det var det unika med Nightwish: symfonisk och episk hårdrock med denna fantastiska operaröst. Tarja är numera sedan länge en framgångsrik soloartist, och har släppt ett antal hyllade album.
"In The Raw" är, till fansens förtjusning, en renodlad rockplatta, där Tarja visar på en imponerade bredd och variation.
Släpps digitalt och på CD, 2LP och box som innehåller CD, 2LP picture disc, bonus-CD och en påkostad fotobok i LP-storlek, m.m. "
Skivbolaget Car Music´s infotext i original:
As the saying goes, not all that glitters is gold. But then again, not all that is gold necessarily glitters. It was this idea that struck Finnish singer Tarja Turunen as she began work on her seventh solo album, "In The Raw".
"Gold, we think, is something polished and perfect, sophisticated, a luxury – but in its natural state it's a raw element", explains Tarja. Just like the music on her upcoming album: a combination of sophisticated and refined orchestration, choir and her classically trained voice with a raw, dark heavy musical core. Simply put, "In The Raw" is a gold-plated work of wonder.
Three years on from her last album, 2016's "The Shadow Self", "In The Raw" finds Tarja and her beautiful voice sounding, as ever, truly stunning. Working with many of the same musicians and production team as before, the intention was to bring out the idea of rawness to match the feelings Tarja was having from the very beginning of the process.
The album finds Tarja going to raw, personal places in her lyrics. Opening herself up more than ever before, she says she was left feeling naked by her honesty, but also pleased at where she had gone with her words.
The first look at the album, the brand-new song "Dead Promises", is all this and more. Matching the stunning power of Tarja's voice with a thunderous guitar, the aggression she speaks of is brought to the front, not threatening to shatter something fragile, but reinforcing its power. "I really like how the guitar sounds: in your face," she says. "If I'm singing powerfully, I need something powerful behind me so that I don't feel like I am left alone."
Fans will find that the album includes a different version of the song with guest vocals by Björn "Speed" Strid of Soilwork.
The concept of gold and its raw state extends to the album's artwork. In start, here we find Tarja in St Michael's Cave, Gibraltar, framed in vivid colour and golden sheen.