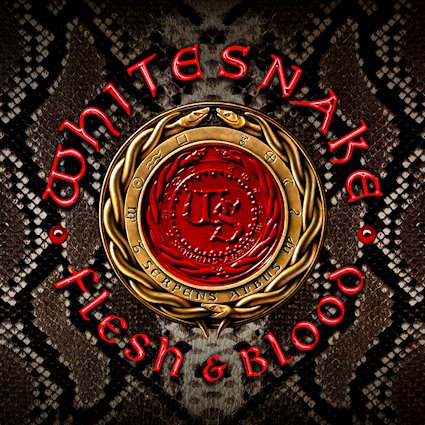 Strax före helgen dök det upp en promtionlyssning från Playground Music, som innehöll en streaming av hela det nys albumet med de klassiska hårdrockarna Whitesnake. Det nya studioalbumet "Flesh & Blood, är det första studioalbum gruppen släppte sedan 2011 och är efterlängtat av alla bandets fans.
Albumet innehåller några riktiga höjdare, där både David Coverdales sång och gitarristerna Reb Beach och Joel Hoekstra släpper loss i en nytändning man inte är bortskämd med.
Efter fem lyssningar har våra favoriter blivit:
-Heart Of Stone
-Shut Up & Kiss Me (singlen)
-Good To See You Again
-When I Think Of You (Color Me Blue)
-Trouble (Is Your Middle Name)
-Well I Never
Ett par lyssningar till och den listan kommer säkert att utökas.
Den här plattan är inget hastverk utan känns både genomarbetad och
med respekt för konsumenten, då speltiden är klart längre än vad
man är van vid nu för tiden.
Att David Coverdale fyller 68 år i år, hörs inte, han verkar gå mot en ny vår och är fortfarande en av de coolaste och snyggaste hårdrocksikoner som någonsin funnits.
Frontface ger Whitesnakes album "Flesh & Blood betyget
FFFF+ av fem möfliga. KÖP ALBUMET, det skall du ha i hyllan…
Så här skriver Frontier Music själva i pressreleasen:
WHITESNAKE
"Flesh & Blood"

Fresh off celebrating their 40th anniversary, rock legends Whitesnake return with their latest studio album, "Flesh & Blood". This album follows the 2011 critically acclaimed studio album "Forevermore" and 2015's "The Purple Album", a reimagining of Deep Purple classics from Whitesnake mastermind's David Coverdale's time in that band. The 13 original, visceral tracks on "Flesh & Blood", the band's 13th studio album, are,luckily for you dear reader, "all killer, no filler", as the saying goes.
But would you expect anything less from the 'Snakes?
Since joining the band four years ago, and just in time for the aforementioned "The Purple Album", Chicago native Joel Hoekstra has really come into his own, not only as a highly impressive axe-slinger, but also as a very accomplished songwriter too, co-writing six of the songs for "Flesh & Blood" with singer David Coverdale. Of course Joel's talents are hardly surprising, considering he's the son of two classical musicians.
Guitarist Reb Beach, who originally joined Whitesnake in 2002, has stepped up to become the group's bandleader and guides the band to implement Coverdale's musical vision. As well as bringing his impressive musical chops to the band, Reb has co-written five songs on the new album, the fourth studio album he has appeared on, commencing with 2008's highly acclaimed "Good To Be Bad".
It was the "Good To Be Bad" follow up, "Forevermore" (2011), that saw the debut of bassist Michael Devin. The New Englander's four-string-depth-charge-bass-bombs definitively underpin and drive the sound of Whitesnake in the 21st century.
Rounding out the rhythm section is David's longest serving 'Snake,the renowned drummer and unstoppable percussionist Tommy Aldridge, who has been with Whitesnake in some capacity for 30 years. Tommy made his debut with Whitesnake way back in 1987 in the 'Still Of The Night' video, becoming a mainstay behind the kit for successive albums and tours.
Last, but certainly not least, the band is completed by the inventive keyboards and vocals of Italian maestro Michele Luppi, who made his live debut in 2015, as documented on "The Purple Tour" live CD/DVD (2018).
The current incarnation of the band carries on the long and unwavering tradition of mainman David Coverdale being surrounded by cream of the crop players who go all in to bring fans the best hard rock humanly possible. 40+ years into their existence, the 'Snakes fangs have only grown sharper and are ready to inject fans with more of that rock 'n roll venom they crave.
"Flesh & Blood" will be released May 10, 2019 via Frontiers Music Srl in multiple formats.
Tracklist:
Good To See You Again
Gonna Be Alright
Shut Up & Kiss Me
Hey You (You Make Me Rock)
Always & Forever
When I Think Of You (Color Me Blue)
Trouble Is Your Middle Name
Flesh & Blood
Well I Never
Heart Of Stone
Get Up
After All
Sands Of Time
Bonus tracks on the CD+DVD version & Digital versions:
Can't Do Right For Doing Wrong (Bonus Track)
If I Can't Have You (Bonus Track)
Gonna Be Alright (X-Tendo Mix) – DVD audio track
Sands Of Time (Radio Mix) – DVD audio track
Shut Up And Kiss Me (Video Mix) – DVD audio track
Line-up:
David Coverdale: Vocals
Reb Beach: Guitars
Joel Hoekstra: Guitars
Michael Devin: Bass
Tommy Aldridge: Drums
Michele Luppi: Keyboards