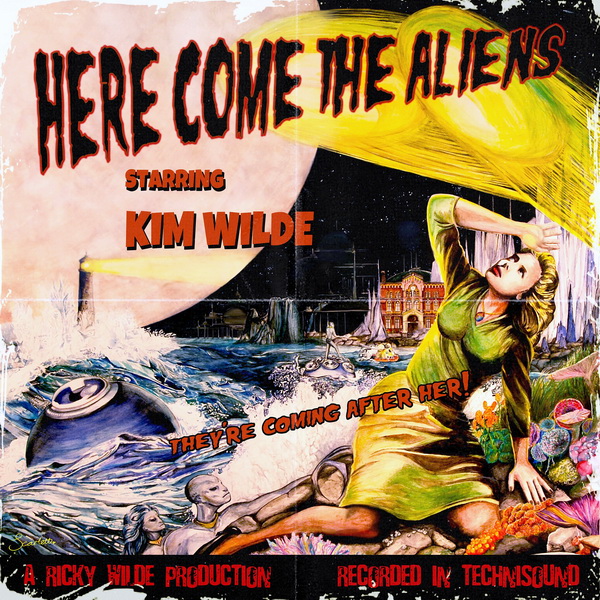 När det i veckan damp ner ett recensionsexemplar av Kim Wildes helt nya album, "Here Come The Aliens" från Playgroumd Music, trodde vi på Frontface Magazine först att "Nu har de säkert skrapat ihop gammal skåpmat för att väcka  liv i en tidigare legend". Men SÅ FEL man kan ha.
Den här plattan vågar vi redan nu utnämna till "Årets Come-back". Inte ett svagt spår av de 12 som generöst ingåoch man kan både dansa och lyssna om vartannat. Partyplatta? Jepp, en kartong iskalla och inte ett ben är stilla.
Öppningsspåret har ett lite lustigt nostalgi-intro men när det är passerat, är det bara att kapitulera och hissa dansflagg.
Därefter  flirtar Miss Wilde med Kandy Krush i låten med samma namn och spåret därefter, "Stereo Shot", gungar på i härlig rytm som bara skapar leenden och fler danssteg.  Den lite rockiga "Addicted To You" närmar sig Metal-dance till en början men tangerar sedan både synth- och popfamiljerna.
lite tyngre "Cuyber Nation War" har precis så där perfekt distad gitarr att man direkt får rätt känsla för det inre krig som Kim Wilde sjunger om. Spåret därefter, "A Different Story" är en helt oemotstånglig låt att partydansa till. I näst sista spåret, "Rock The Paradise", känner man igen den "gamla Kim Wilde" i den pop-ppunkiga stil hon hade under de gyllene åren, när hon slog knock med bland annat "Kids In America".
Det 12:e och avslutande spåret "Rosetta" är en vacker ballad som utan tvivel skulle kunna bli e klassisk sådan, om nu inte det var yngre tonåringar som med sin smak styr det mesta i radiospelningar nu för tiden. Spåret innehåller även insats av Frida Sundemo.
Kims röst håller utan tvivel minst lika bra, kanske bättre, än under storhetstiden.
Albumet slapps den 16 mars, så ladda inför en häftig AW-fest nästa fredag.
Nedan följer Playgrounds original-pressrelease, så du inte missar något om detta lyckade come-back album som Frontfae ger FULL POÄNG, alltså FFFFF. Congrats, Kim Wilde…i´s on "repeat"…
KIM WILDE ANNOUNCES "HERE COME THE ALIENS" ALBUM RELEASE ON MARCH
16th, 2018
earMUSIC is proud to announce the release 'Here Come The Aliens', the first studio album in
seven years by pop icon Kim Wilde on March 16th, 2018.
'Here Come The Aliens', produced by Ricky Wilde, contains 12 brand new songs and it has been
recorded at RAK Studios in London – the very same recording studios where a big number of
albums that changed pop and rock music were born and where Kim began her career back in
1981, recording seminal hits as 'Kids In America', 'Chequered Love' and 'Cambodia'.
The album combines Kim's pop roots with her love for rock music, presenting great guitar riffs
and drum beats.
'Here Come The Aliens' marks a milestone in Kim Wilde's exciting career.
Soon after the album release, on March 16th, 2018, the 'Here Come the Aliens' world tour will
start in the UK to later lead to Scandinavia, Holland and the USA, later in the year.
The Kim Wilde 2018 shows will feature songs from the long-awaited new album as well as all
the hits. The 'Here Come The Aliens' tour will arrive to Germany, Austria and Switzerland in
October 2018.
Anyone who had the chance to see Kim Wilde in concert in the last couple of years, knows how
amazing her current live show is, strong of one of the best live bands working today. A tour not
to miss, for all fans of power pop rock!
This document was created using iPool music promotion software – http://iPool.info
About Kim Wilde
The multi-award-winning artist – who has sold over 30 million records worldwide – burst onto
the music scene in 1981 with the worldwide hit 'Kids In America'. Kim followed with some of
the most memorable hits of the 80s: 'Chequered Love', 'Cambodia', 'You Keep Me Hangin' On'
(#1 USA), 'You Came', 'Never Trust A Stranger' and 'Four Letter Word'.
Voted Best British Female Singer at the BPI Awards in 1983 (forerunner to the Brits), Kim
Wilde supported Michael Jackson during the 'Bad' European tour, playing in front of more
than two million people. Kim also opened the shows of David Bowie across Europe on his 1990
'Greatest Hits' stadium tour.
The 90s saw Kim Wilde continue to remain in the spotlight with the albums like 'Love Moves'
and 'Love Is' which featured the singles 'Love Is Holy' and the Bee Gee's classic 'If I Can't
Have You'.
After a break from music and focus on her family life Kim returned on stage in 2001 and
appeared on various festivals across Europe and Australia.
Since then she continues releasing chart albums ('Never Say Never' (2006), 'Come Out And
Play' (2010), 'Snapshots' (2011), 'Wilde Winter Songbook' (2013)) and performing with her
band live all across the globe as well as continuing her own, very popular, UK radio show on
Magic FM.
Track Listing:
1. 1969 4:04
2. Pop Don't Stop 3:51
3. Kandy Krush 3:16
4. Stereo Shot 3:39
5. Yours 'Til The End 4:36
6. Solstice 5:24
7. Addicted To You 3:45
8. Birthday 3:39
9. Cyber.Nation.War 4:56
10. Different Story 3:42
11. Rock The Paradiso 3:45
12. Rosetta (feat. Frida Sundemo) 4:47