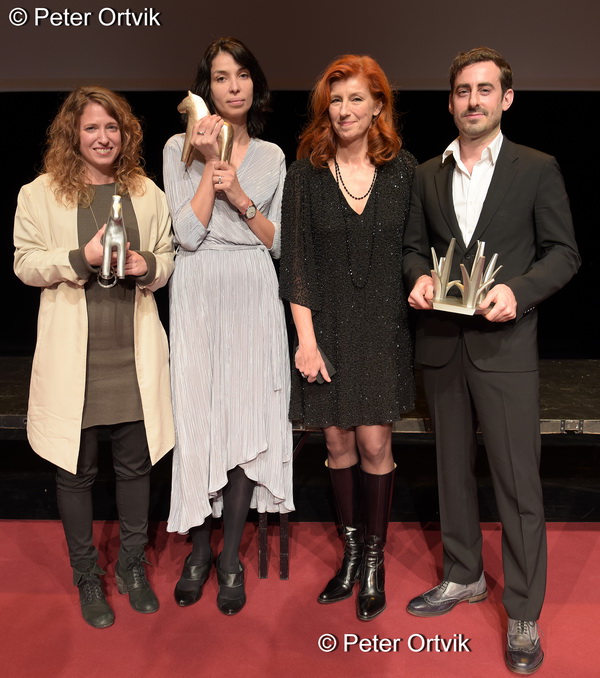 Dansens Hus vid Norra Bantorget i Stockholm stod som värdlokal för årets Prisutdelningsscen under Galakvällen för Stockholm International Film Festival. Eventansvarig, Mia Jorpes från Wonderland Event, hade även sett till att Frontface internationella gäster från Milano, Massomo Di Gennaro och Giancarlo Di Gennaro fick var sin inbjudan och det tackar vi speciellt för.
På grund av överbelastning i inflödet, har vi inte hunnit skriva bildtexter denna gång men längst ned i reportaget, finns Festivalens egna beskrivningar om vinnare och deras verk.
Kvällen fortsatte sedan med festiva förtecken nere i nattklubben Le Bon Palais lokaler.
Våra läppar är dock förseglade gällande den delen av kvällen…
Tack till Festivalens Team med Git Scheynius i spetsen och alla andra som med sin närvaro och insatser gjorde hela evenemanget till ett mycket lyckat sådant.
Även Kodjo Akolor, som kvällens "Stage-Master", förtjänar ett hedersomnämnande.
Välkommen att länka TILL vårt reportage men det är inte tillåtet att plocka bilder FRÅN reportaget, de är ©-copyrightskyddade och EXIF-kodade. Högupplösta bilder säljes via bildbyrån www.primepix.se.   All trafik skall gå till oss, vilket är vår grundfilosofi.
Please observe that all photographic material in Frontface Magazine is protected by laws of copyright.
It is okay to use the links to our reports, but it is not allowed to copy photos and use them in any way, without written permission from the copyright holder, Peter Ortvik. All photos/images cen be purchased from our Image Bureau, www.primepix.se or contact the copyright holder, Peter Ortvik directly at ortvik @frontface.se. All web traffic is to be directed to Frontface Magazine, that is our basic philosophy
Stockholm Impact Award: Wayne Roberts for Katie Says Goodbye 
Katie Says Goodbye is a sensitive, layered and complex, coming of age story of a young American girl. The film displays a clearly female sensitive gaze, without sensationalizing Katie's heart breaking story. It shows us the complexity of human nature and people and relationships, be they women or men, without judgment. The cinematic style of the film is fresh and subtle, and the performance of Olivia Cooke as Katie is compelling. It leaves you experiencing, the innocence, the darkness, the vulnerability and the strength of the lovable Katie.
1 km film: Frida Kempff for Dear Kid
This years 1km film scholarship goes to a director who believes in the power of the image, her scenes achieve a fine balance between mystery and emotion. Small details in her film bear great importance, the observant viewer is rewarded with complex characters undergoing a stormy inner drama.
Best Short Film: Raymund Ribay Gutierrez for Imago
For the main prize, the film that stood out was for its raw fly-on-the-wall imagery, gripping story, and its roller coaster sense of morality. This film showed us a world we had never seen before, and some of its shocking imagery will stay with us for a long time.
Best Documentary: Nanfu Wang for Hooligan Sparrow 
Not long ago, filmmaking was exclusive for the privileged. Thanks to new technology some few rare talent are able cross the barrier of the establishment and create a fantastic film. In a world speeding into nationalism and corruption we have an opportunity to meet a daring group of women standing up against a system that perpetuate sexual abuse on women and children. With a organic closeness and compassion to subject, seldom seen in the art of film, we are happy to reward Best Documentary to the remarkable achievement of Nanfu Wang with the fantastic film Hooligan Sparrow.
Best Actress: Irena Ivanova for Godless
In this beautiful portray of a struggling woman we follow all her moves with suspense. The prize for Best Actress goes to Irena Ivanova for her work in GODLESS.
Best Actor: Kévin Azaïs for A Taste of Ink
In this great debut film, we follow a remarkable portray of a young mans struggle of finding peace with his father. The prize for Best Actor goes to Kévin Azaïs for his incredible work in A TASTE OF INK.
Best Cinematography: Andrei Butica for Dogs 
Photographed with incredible restraint and a clear mastery of both artistry and craft, the Director of Photography clearly delivers some of cinema's finest cinematography. The prize for Best Cinematography goes to Andrei Butica for his cinematography of DOGS.
Best Script: Johnny Ma for Old Stone 
This script with marked intelligence, one man's descent brilliantly unfolds in this important and terse moral thriller. The prize for Best Script goes to Johnny Ma for OLD STONE.
Best First Film: Elite Zexer for Sand Storm 
An important film told with great authenticity and compassion, cinema and the world at large has a new and exciting voice with this film maker. The prize for Best First Film goes to Elite Zexer for her wonderful and wildly poignant SAND STORM.
Best Director: Johnny Ma for Old Stone
In the wildly engaging and painfully relevant film, talent of the highest order is shown in full display. The prize for Best Director goes to Johnny Ma for OLD STONE.
Best film: Ralitza Petrova for Godless 
The prize for Best Film goes to an astonishing masterpiece. This is filmmaking of the highest order and marks the arrival of a new great within cinema. A film that will forever live in the hearts and minds of viewers. It is a true work of art and, simply put, is one of the finest films ever made. Best film goes to Ralitza Petrova's GODLESS
Rising star: Filip Berg
The 2016 Stockholm Film festival Rising Star award goes to a young actor to whom the audience can easily relate. He characterises each role with an openness, vulnerability and curiosity – his competence inspires, something both domestic and international audiences have recognised. A truly astute actor with a career destined to continue on the movie screen.
FIPRESCI: Andrea Arnold for American Honey 
A depiction of being young amongst a mid-western society. With an incredible soundtrack the film perfectly captures hope amongst hopelessness. This years International Critics Prize (FIPRESCI) goes to "American Honey" by Andrea Arnold.